The Nemo's Voyage slot machine inspires Jules Verne's science fiction adventure novel. It has an easy-to-navigate 5×4 layout and comes in handy with 40 paylines.
Do you ever wonder how rewarding and adventurous it would be for you to embark on a voyage with a famous captain? Well, thanks to WMS online slot gaming, you can have all the imaginable fun with Captain Nemo while playing Nemo's Voyage Slot.
Why Should I Play Nemo's Voyage Slot?
The real question is, how rewarding can it be? There are many prizes to be won, including essential sailor's equipment like Harpoons, Telescopes, Maps, and many more. There are even more lucrative rewards when you spot dangerous sea animals like whales, Giant squid, and Hammerhead Sharks.
Each spin of the wheel moves the pressure indicator inside the Nautilus, Captain Neom's ship, and upon reaching certain pressure levels, you will get plenty of fun bonus games such as Wilds, Clumped Wilds, and Pressure wilds. Better still, a voyage with Captain Nemo on the Nautilus suites all types of gamers; whether you like placing high stakes or low stakes, Nemo's Voyage Slot fits any budget.
Aboard The Nautilus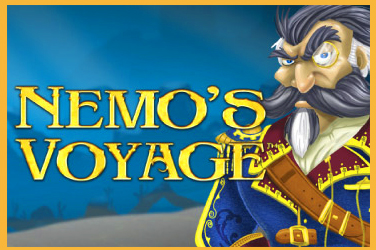 Once abroad, you will mostly stand by the massive viewing window where you'll see fun sharks, whales, squids and be mesmerized by other sea wonders. Try to find maps and telescopes as your first steps into prize-hunting.
You'll need to navigate through your voyage and even find some harpoons in case your adventures get a little frisky. You'll get up to 500 coins for spotting a shark or a whale. Also, the slot awards you up to 625 coins for spotting an electric fish, while a giant squid will earn you up to 1000 times.
There is a meter with an indicator on the right-hand side of the reels. On each spin you make during the descent of the Nautilus, the indicator moves down. Besides, the wild feature is initiated whenever the ship passes a lock until it reaches another lock. Thanks to this incredible feature, you can activate pressurized wilds, multiplier wilds, Wild Reels, or Clumped Wilds.
Located above the depth meter is a pressure gauge. When the pressure increase symbol pops up, the gauge ticks the needle to the right. Notably, when the needle is in the red section of the pressure gauge, the ship stops descending, while the next time the increased pressure symbol appears, the ship starts ascending at a pace until it again reaches another lock.
Whether you win or lose by spinning a wheel, each spin moves the Nautilus' pressure gauge into any bonus sections, including Wild, Wild x2, Wild x3, Clumped Wilds, Pressure Wilds, Wild Reels, and Bonus.
The wild symbols will substitute all base symbols if you trigger the wild bonus. On the other hand, triggering a Wild x2 or Wild x3 multiplies all prize lines containing a wild by two and three, respectively.
When two or more Multiplier wilds complete a winning together, they form a combo by adding them. Wild reels will hold wild symbols on the first and third reel, while Clumped Wilds will form clumps of wilds. If the bonus symbol appears – which only happens on reels 1,3, and 5, you will get a random number of free spins. If a giant squid surfaces at this stage, it grabs a reel and turns it into a wild reel. Nemo's ship does not ascend or descend while playing free games.
Bet Stakes
This slot game has a generous staking system; this means both high rollers and low rollers have an equal chance. The 40 paylines allow a stake ranging from 0.01 and 5 coins. As such, you can make a minimum bet of just 0.04 per spin, while you can stake a maximum bet of 200 coins per spin.
Nemo's Voyage Slot FAQs
Where Can I Play Nemo's Voyage Slot Machine for Free?
Indeed, you can play this WMS Slot for free right here at Indigo-slots.com. Enjoy slot games with numerous wild symbols and bonuses without using a penny!
Is Nemo's Voyage Slot Worth a Trial?
First, Nemo's Voyage is a video slot developed by a WMS casino software provider. Playing this slot gives you a realistic feel of thousands of leagues under the sea. This engaging slot takes you on an underwater adventure with multiplier wilds, 40 paylines, and a free spin feature to boost your wins.
Is Nemo's Voyage Slot Safe to Play?
Yes, we concluded that Nemo's Voyage Slot is safe to play after testing the game thoroughly. Please go through our detailed list of secure quality online gaming casinos that features this reputable slot and place to spin.
Which Software Providers are Behind Nemo's Voyage Slot?
Nemo's Voyage Slot was created by WMS, an innovative developer based in Chicago. WMS slots are played by millions of gamers all over the world.
Final Thought
Overall, a lot is happening in Nemo's Voyage Slot. Although it may appear complicated, you'll enjoy smooth gameplay and top-notch graphic quality. Although equipped with a wide range of symbols, the giant squid is the top paying symbol.
When you land five giant squids in a payline, you'll earn up to 300 coins. Although it's not one of the best payouts out there, multiple wilds appear on the reels, and you can easily create multiple winning combos at once. That said, the maximum possible win you can get your hands on during the base game is 12,000 coins.
Nemo's Voyage Slot Thrives provides its players with exquisite graphics coupled with a realistic dramatic music score that provides the best gaming environment, one full of anticipation. All the featured symbols come with themes, and there are no playing cards in view. Principally, the deeper you dive, the higher the winning odds. Therefore, the RTP rate increases from 95.01% to an incredible 99% at the bottom of the sea. Diving with Captain Nemo will undoubtedly earn you some hefty payouts; thus, we do recommend that you try this creative WMS release.
Comments Rating
( reviews)
| Casino | Players | Sign Up |
| --- | --- | --- |
| | Random casino for American players | Play |
| | Random casino for European players | Play |
| | Random casino for world players | Play |
| | Random casino for Aussies players | Play |