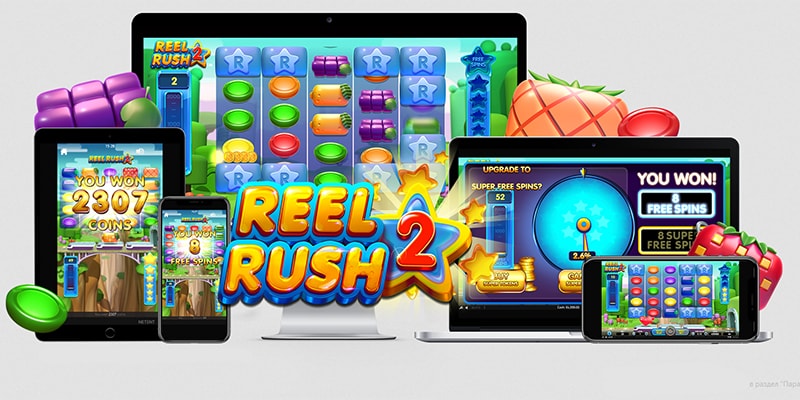 Back in 2013, an absolutely crazy and stirring slot game was released. The first part of Reel Rush created a whole fanbase of gamers drawn to it because of immeasurable fun and adrenaline. Due to the striking success of this game, NetEnt decided to create an even better and improved version – Reel Rush 2. Are you excited to welcome back this legendary game?
The first game was a surreal mixture of colors and retro videogame background music. The slot comprises a five by five square field packed with colorful cartoony fruits, stars, and symbols. The original soundtrack is extremely fun and reminiscent of the games you were playing in the nineties.
It is a rather simple game without too much action or the latest animations, although its key characteristic makes it outstanding and unique. It has thousands of fans because it is exceptionally thrilling.
But why does everyone love it so much? What is so exciting about such a straightforward game? The answer is hundreds and even thousands of possible winning outcomes! Can you imagine 3,125 winning combos that make gaining prizes totally possible? Blend attractive design, catchy soundtrack and extremely high winning chances together, and you will get Reel Rush 1.
Now, let us see what is so special about Reel Rush 2 that makes the new game even more fun and thrilling. The developers have decided to implement some exciting innovations in order to diversify the gameplay and allow players to enjoy even more wins than there were in the first part.
The second edition of the game impresses everyone with a new feature. Now when triggering Free Spins, each player has to choose their next step. There are three brand new options: Purchase Super Tokens; bet every single Super Token you have to gain even more, or play it safe and choose Free Spins as usual. Previously, Reel Rush was an ordinary gambling game, just like many other slots but more fun. Now, however, it has become more strategic. Nothing gets your adrenalin pumping like carefully weighing each decision and choosing your own method of playing.

In conclusion, let us compare the games once more. Clearly, the original one was colorful, bright, amusing and thrilling. It had hundreds of winning possibilities resulting in high chances of gaining prizes. Reel Rush 2 has it all but also adds new Random features for testing your luck and strategic thinking for making the gameplay even more enjoyable.