We all like online slots and other casino games, but who helps them being a success? Here you will meet women who have already had their career in gambling companies. We have drawn infographic about them, so you could look. If you want to read more information, all it below.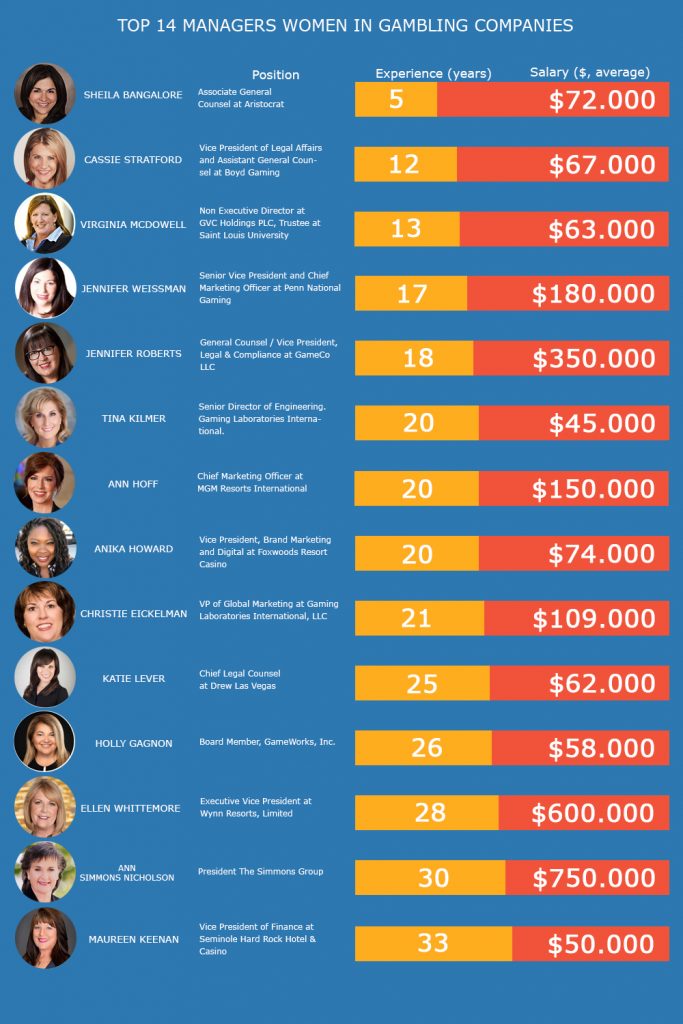 Christie Eickelman
Position: VP of Global Marketing at Gaming Laboratories International, LLC. Age 57 y.o.
Salary: Christie's average salary is $109,036.
Her responsibilities include building the corporate brand and establishing and directing marketing functions in accordance with GLI's policies, regulations and sound business practices. She joined the company in 1999 as Marketing Manager, shaping GLI's branding in North America. In 2001, she was promoted to Director of Marketing and Development, overseeing the North American development team in their daily responsibilities. In June 2007, she was promoted to Senior Director of Worldwide Marketing, and in September 2012, she was promoted to Vice President.
Eickelman has a long history in the gaming industry. Prior to GLI, she served as Marketing Manager for Sodak Gaming Inc. (now IGT). She has also served at Wolf Gaming LLC as Vice President of Marketing and Public Relations. In 2005, she was selected as a Great Woman in Gaming by Casino Enterprise Management, and in 2008, Global Gaming Business named her one of the 25 People to Watch in Gaming. Eickelman is one of the founding members on the Global Gaming Women board, she's also a member on the Andson Foundation board and for the past two years she has served on the Executive Leadership Committee of the American Heart Association-Go Red for Women Luncheon of Southern Nevada.
Cassie Roseana Eva Stratford

Position: Vice President of Legal Affairs and Assistant General Counsel at Boyd Gaming. Age 36 y.o.
Salary: $66,548
After graduating law school in 2008, Cassie joined the Las Vegas office of Snell & Wilmer L.L.P. as an associate in the commercial litigation practice group. While there, she was able to develop her skills as a new attorney while under the guidance of the firm's extremely skilled and well-respected attorneys. Since 2012, Cassie has worked for Boyd Gaming Corporation, currently as Vice President and Assistant General Counsel, where she assists in a wide variety of matters for the publicly traded, multi-state casino owner and operator. Cassie describes working for the company co-founded by William S. Boyd, the law school's namesake, as "a unique honour as an alumna of the Boyd School of Law."
Virginia McDowell
Position: Non Executive Director at GVC Holdings PLC, Trustee at Saint Louis University, Board Member at Global Gaming Women. Age 59 y.o.

Named Gaming Executive of the Year for 2009 by Casino Journal Magazine, Virginia McDowell has always performed at the top of her game. Among the top publicly-traded gaming corporations, she served as the only female president and chief executive officer of a major gaming operating company from 2007 until her retirement from Isle of Capri Casinos in April 2016. She now serves at the president and board chair of Global Gaming Women, a new non-profit with a mission to support, inspire and influence the development of women in the gaming industry through education and mentoring. Her achievements include combining thirty-five years of casino experience with strong business skills and a demonstrated ability to communicate at every level, and she has served as a frequent featured or keynote speaker, moderator or panelist at universities, civic organizations and charitable organizations and major industry conferences.

Salary: With a successful career, McDowell's has earned a net worth $5 million with an annual salary of $350 thousand. Her budding career surely has helped her make it to the millionaires club.
Ann Hoff
Position: Chief Marketing Officer at MGM Resorts International.

Salary: Ann's annual salary is between $100 – 149,999.
Hoff is a 2010 graduate of Leadership Las Vegas and holds a bachelor's degree in Hotel and Restaurant Management from the University of Nevada, Las Vegas (UNLV) where she was honored among UNLV's 50 Most Intriguing Alumni in 2018. She has also been recognized with the UNLVino Dom Perignon Award of Excellence, honoring individuals who have distinguished themselves through inspirational leadership, character and work ethic as well as, GGW's Pay It Forward Award, Women to Watch by In Business and Global Gaming Business Top 25 People to Watch.
Maureen Keenan
Position: Vice President of Finance at Seminole Hard Rock Hotel & Casino.
Salary: is between $40 – 49,999.
Maureen Keenan, 66, brings over 33 years of gaming industry experience in finance and operations to her current role as Vice President of Finance for the Seminole Hard Rock Hotel & Casino in Tampa, Florida. In this role, she is responsible for the areas of finance, analysis, cage operations, credit, IT, warehouse and retail operations. Maureen is part of the leadership team at Seminole Gaming that formed the Women of Seminole Gaming to encourage and support the development and success of the women of Seminole Gaming.
Ann Simmons Nicholson
Position: President The Simmons Group. Age 60 y.o.

Salary: $750,000 and has $100,000 in bonus pay.
Ann Simmons Nicholson is President and Founder of the Simmons Group. She is recognized as an expert in Strategic Planning, Talent Management, Human Resources, Organizational Development and Training. The Simmons group has work internationally in private industry, for non-profit organizations, and government entities. Her clients such as Konami Gaming, Whole Foods, the Las Vegas Convention and Visitors Authority, Scientific Games, dozens of hotel casinos, schools and numerous non-profit organizations, have all benefited from Ann's 30 plus years of experience.
Jennifer Roberts

Position: General Counsel / Vice President, Legal & Compliance at GameCo LLC. Age 67 y.o.
Jennifer Roberts is the Director of Sports Gaming Regulation for the Tennessee Education Lottery Corporation. She previously served as Associate Director and interim Executive Director of the International Center for Gaming Regulation at University of Nevada Las Vegas, where she created a curriculum for educating regulators on sports betting and casino regulatory issues, established the U.S. Sports Betting Forum, and advised governments, including Japan, on the development of a casino regulatory structure and system. Ms. Roberts has practiced gaming law for 17 years as a partner at Duane Morris LLP and shareholder in the Gaming & Regulatory Department of Lionel Sawyer & Collins, a Nevada-based law firm. For 10 years, Ms. Roberts was an adjunct professor at the William S. Boyd School of Law, teaching courses on introduction to gaming law, gaming law policy, fundamentals of casino operations, and resort hotel casino law. She was also an adjunct professor in gaming law at the S.J. Quinney College of Law at the University of Utah.
Jennifer Weissman

Position: Senior Vice President and Chief Marketing Officer at Penn National Gaming. Age 52 y.o.
Jennifer Weissman has close to twenty years of experience as a marketing leader within the gaming industry. Prior to joining Penn National Gaming, Inc., in November of 2015, Weissman spent 17 years in various marketing roles at Caesars Entertainment, formerly Harrah's Entertainment, Inc. Weissman started her career in gaming at Hollywood Casino Tunica, as a public relations coordinator. Prior to joining Penn National Gaming, Inc., Weissman served as Regional Vice President for Caesars, overseeing the strategic marketing efforts for nine geographically and competitively diverse casinos and hotels that generate over $1.5 billion in gaming revenues. Weissman also has extensive property level experience, serving as the head of marketing at casinos in several of PENN's current markets, including St. Louis, Tunica, and ChicagoLand. Additionally, Jennifer was part of the opening team for the Harrah's Rincon property in San Diego.
Holly Gagnon

Position: Board Member, GameWorks, Inc.
Holly Gagnon is the President and CEO of Seneca Gaming Corporation which includes Seneca Niagara Resort & Casino in Niagara Falls, NY, Seneca Buffalo Creek Casino in Buffalo, NY, and Seneca Allegany Resort & Casino in Salamanca, NY. Previously she served as CEO for Chumash Enterprises for the Santa Ynez Band of Chumash Indians. She is one of the very few female CEOs in the gaming industry and has leveraged her vision over a 20-year career to consistently prioritize guest experience, employee engagement, and drive superior results to the bottom line. In April 2016, Holly was named Executive of the Year by The Native American Finance Officers Association. She served as 2014 keynote speaker and panel member at one of the gaming industry's most prestigious events, the Global Gaming Expo (G2E) in Las Vegas. Holly is a founding board member of Global Gaming Women, where she chairs the mentorship committee.
In May 2020 Holly Gagnon finished her work as CEO in the Seneca Gaming Corp.
Salary: stands at $58,964
Katie Lever

Position: Chief Legal Counsel at Drew Las Vegas.
Katie Lever has been Chief Legal Officer or General Counsel to some of the gaming industry's most influential operators and suppliers. In these roles, she's navigated cutting edge legal, risk management, and regulatory challenges during these organizations' greatest formative times, found creative solutions to complex corporate and strategic requirements against unforgiving timelines, and collaborated across corporate functions and across the globe, while cementing the trust of her teams, colleagues and Boards. She was the first woman Executive Vice President during her tenure at Scientific Games and its acquired entities, Bally Technology and SFHL entertainment, as well as in her position at Global Cash Access.
Recently, in her roles as Chief Legal Officer at Drew Las Vegas and General Counsel & EVP at Baha Mar, she created the foundational structure for the legal, regulatory and compliance functions for these integrated resort destinations. She has brought together her experience in FinTech, corporate law, and risk management as a Director and Chair of the Audit Committee of the GBank Financial Holdings Inc., one of the top-rated community banks in the country. As Senior Director of Engineering for Gaming Laboratories International, Tina M. Kilmer ensures that GLI's testing and compliance services are provided at the highest standards of excellence. She oversees engineering managers and teams facilitate the delivery of services on time, on budget, and with unbeatable quality. She also works closely with gaming suppliers at multiple levels to understand the issues they are facing and how GLI can best meet their needs. Salary: $62,450
Now she works as Board Member & Audit Committee Chair at Bank of George.

Tina Kilmer

Position: Senior Director of Engineering. Gaming Laboratories International.
As Senior Director of Engineering for Gaming Laboratories International, Tina M. Kilmer ensures that GLI's testing and compliance services are provided at the highest standards of excellence. She oversees engineering managers and teams to facilitate the delivery of services on time, on budget, and with unbeatable quality. She also works closely with gaming suppliers at multiple levels to understand the issues they are facing and how GLI can best meet their needs. Kilmer has more than 20 years of global gaming experience and is a registered Professional Engineer (PE) with a proven record of success in developing a culture of compliance and delivering exceptional results in highly competitive environments. Her areas of expertise include technical compliance, program management, product development, and strategic planning and execution.
Prior to joining GLI, Kilmer was Vice President of Product Compliance for Scientific Games (formerly Bally Technologies) where she built a dynamic, global team responsible for global regulatory management and technical compliance of advanced technology-based gaming devices and systems, table games and utility products, and mobile devices. Kilmer also served as Vice President of Project Management for the former Bally Gaming and Systems.
Salary: $40-49,000 Income and Net Worth.
Ellen Whittemore

Position: Executive Vice President at Wynn Resorts, Limited.
Representing some of the world's largest gaming companies before the Nevada Gaming Control Board and the Nevada Gaming Commission in licensing, disciplinary, and gaming and entertainment tax matters, she also represents private equity companies investing in the gaming industry and represents many of the leading gaming technology firms engaged in interactive and social gaming.
Sheila Bangalore

Position: MP Materials. (Associate General Counsel at Aristocrat)
Sheila Bangalore currently serves as Associate General Counsel for Aristocrat Technologies, a leading global provider of land-based and online gaming solutions. Prior to Aristocrat, Sheila served as Senior Corporate Counsel at Zappos.com, and also as Associate General Counsel at Bally Technologies. Sheila strongly believes in giving back to her community, including as a member of the American Heart Association's Executive Leadership Team for the Go Red for Women initiative in 2018, as a member of the Association of Corporate Counsel's Leadership Excellence Council in 2017, and as the President of the Association of Corporate Counsel – Nevada Chapter in 2015 and 2016. Sheila is a graduate of the Washington University School of Law, where she received her J.D., and Tufts University, where she received her B.A. in English.
Her last 5 years she had been working for the Aristocrat. In April she joined MP Materials.
Salary: $72,507.
Anika Howard
Position: Vice President, Brand Marketing and Digital at Foxwoods Resort Casino.

Salary: $74000 average.
Anika Howard is the VP Brand & Digital Marketing for Foxwoods Casino ResortShe joins the GGW Board with close to 20 years of experience in the gaming and entertainment industries. Her focus is innovation and transformative technologies. She continues to advocate for using technology to create compelling and engaging customer experiences. Prior to joining IGT, Anika founded and managed a boutique interactive agency – AHA Management and Consulting, Inc. She provided consulting services to Northstar Lottery Group and launched the first US based iLottery solution for the Illinois Lottery. As an executive for IGT she's led several ground breaking initiatives for iLottery, iGaming, Mobile and Interactive.