When I first set my eyes on this slot in Las Vegas, there's no denying it; I did smile while staring at the stacked kitten symbols. I wondered how a game based on kittens would be excellent at all; who even came up with such an idea. But OMG! You'll be surprised by the amazing gamification features coupled with enticing bonuses at OMG! Kittens slot. These felines are fun, after all!
OMG! Kittens Slot machine review
Most people like felines, and even those who dislike them in person tend to agree that they are pretty adorable from a distance. For this reason, slot machine makers have incorporated these frisky friends into their games. The most incredible game featuring felines might be OMG! Kittens. WMS are the creators of this game. Initially, OMG! Kittens were created for the live casino market but recently debuted in the world of online gaming.
Top Real Money Casino Game
OMG! Kittens is a five-reel game, 40 payline game where you'll be sure to grab enticing perks as you play. You can play this online slot at most casinos that offer games from WMS. At the start of your spin, you will have an option to choose how much you would like to bet per line. Typically, denominations ranging from $0.01 to $1.00 or more per line are available.
Notably, all the game symbols are featured in OMG!

WMS
Kittens are cat-themed slot game. Here, you will find bottles of milk, little kitty collars, and balls of yarn. The game also has three symbols of individual cats; Bubbles, Tiger and Mr. Whiskers. With each of these symbols comes the most enticing prizes. The winning rule here is simple; the more cats you hit in a row, the larger the payout you will win.
Special OMG! Kittens Symbols and Features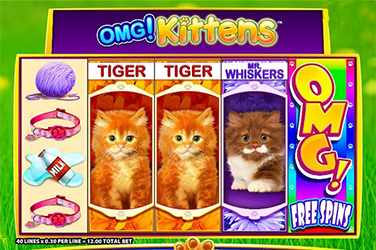 Just like most other games, OMG! Kittens have a scatter symbol: in this case, it features a "Fishcat," which is a cute feline attempting to sneak into a Fishbowl. You earn money when you hit three or more scatter symbols anywhere on the reels. Principally, the more you scatter symbols you find, the bigger the winnings.
Additionally, hit four large kitten symbols featured with a bonus symbol on the fifth reel to trigger a free spins bonus round. Here, you'll get at least five free spins.
Interestingly, the game features Bubbles, Tiger and Mr. Whiskers; each of these three features has its unique way of making your gameplay more exciting.
First, Bubbles will award you extra free spins for your play, up to a maximum of 45 if you hit four of these particular kittens. Secondly, landing Tiger increases the multiplier value of the free spins up to 10 times for four of these symbols. Finally, Mr. Whiskers will add your bonus payout when you start your round.
What's more, landing a Fishcat will certainly earn you huge rewards. So, be on the lookout for greater perks and gameplay at this 40 payline game.
On top of all these, there are plenty of other interesting bonus features scattered throughout this OMG! Kittens Slot. For instance, when any cat symbols appear on the fifth and final reel when playing, it will sometimes multiply the value of your spins from 2x up to 100x. Hitting five kitty symbols in a row could potentially earn you a jackpot!
Online Casino OMG! Kittens Game
Indeed, you can play OMG! Kittens Slots for real money and try winning a jackpot. If you like playing slots to your heart's content, you should try out this popular slot machine. Indeed, it is the cutest slot that you will ever set your eyes on. So, get ready to spin one of the most popular Las Vegas Slot machines with your feline friends.
That said, you should give this adorable slot game a spin. Playing OMG! Kittens slot machine with your frisky felines come in handy with many bonuses and rewards, and you'll surely become a cat person after this experience!
Why Give it a Try?
You can play OMG! Kittens for free – this means that you can spin that button and play as much as you like absolutely for free, then decide whether you like the game or not. Besides, you'll not need to download any software to enjoy your play.
Amazingly, all you need is a stable internet connection and a standard HTML browser. We ensure there are no annoying spammy pop-ups as you play this slot.
If the game crashes or fails to load, which can happen sometimes, you only need to reload the game to resolve the issue. We understand that this is frustrating, but it's currently the only solution since all game-development solutions to this problem are underway.
OMG! Kittens Slot FAQs
Can I Spin OMG! Kittens Online Slot with Bitcoins?
Indeed, you can play OMG! Kittens Slot machine using Bitcoins at any casino that allows you to deposit funds to your account using cryptocurrencies.
Can I play OMG! Kittens Slot Machine for Free?
Yes, OMG! Kittens Slot is available for free play and for real money play. Again, you can access thousands of other demo games. As such, you can play the game absolutely for free here on our site.
Is OMG! Kittens Online Slot safe to play?
As our genuine review points out, OMG! Kittens Slot Machine is safe and secure to play. All you need to do is find a legal and quality online casino site that features WMS games in its lobby.
How Long Does It Take to Claim My Winnings at OMG! Kittens Slot Machine?
How quickly you can get your OMG! Kittens online slot winnings entirely depend on the choice of the casino you are playing at. Principally, you should go for the fastest paying casinos, which will certainly guarantee you quick cashouts.
Final Verdict
By and large, OMG! Kittens is an excellent game with a feline-friendly theme. The promise of cats prancing across the screen will draw your attention. But its surging fame is not just because of the kitty theme alone.
It may not be the best and most complex slot machine out there, but this game features a lot of bonuses and free spins, thus giving you the potential for big wins. Besides, you will get access to quality graphics. That said, OMG! Kittens have all the pointers of a legitimately solid and fun slot machine.
Comments Rating
( reviews)
| Casino | Players | Sign Up |
| --- | --- | --- |
| | Random casino for American players | Play |
| | Random casino for European players | Play |
| | Random casino for world players | Play |
| | Random casino for Aussies players | Play |